About Me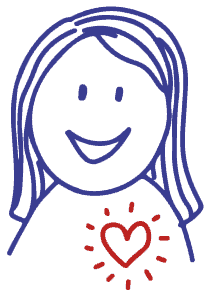 I may have mentioned this before, but I love my job!
It suits me well as I have a serious passion for doodling.  I love to learn new things and am a naturally curious being.

Helping People Understand
It feels awesome when I am in full flow recording at a conference. It is incredibly satisfying when I watch delegates interact with the graphic and spot the parts they connected with or contributed to. Helping people to understand better and learn is definitely something that makes me click.
I get equally excited by focusing a group on a task. Designing interactive and visual programmes to support teams solve problems and make strong decisions fascinates me.  I enjoy researching and have almost 20 years experience of leading groups and training through my career in learning and development.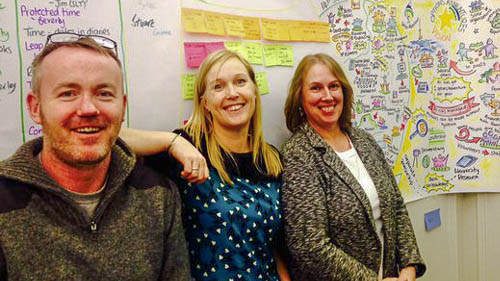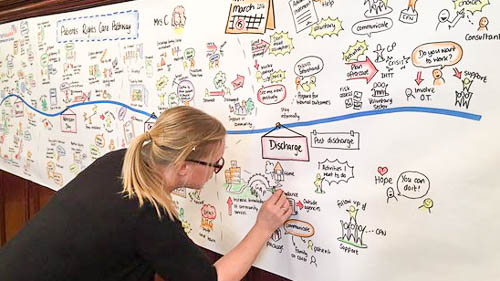 A Passion for Training
The most uplifting thing for me is teaching others how to use visuals to support them in their work, study or life. I can show you very quickly how easy it is to draw these visuals.
Many individuals come into my training saying they can't draw and they worry that it will hold them back with the overall process of visual facilitation. It's then great to see the huge leaps people take.  Every time, the same people that worried leave feeling confident to draw the simple images. They go away full of ideas and motivation to use their new skills. It's a really special feeling taking people on that journey.
All Voices are Equal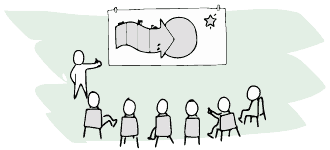 It was through my work in the learning disability field that I came across Person Centred Planning and Practice. This is a way of working that puts an individual or a team in business terms, in charge of their own plans.  The meeting is facilitated by a Process Facilitator and drawn by a Graphic Facilitator.
This is where I really found and built my passion for visual facilitation. It is such a good tool for sharing power.  All voices are equal in drawings, discussions become less threatening and groups are more open. Everyone can see what is happening, you don't have to read or remember as it's all mapped out in front of you. It's just brilliant!
Fully Committed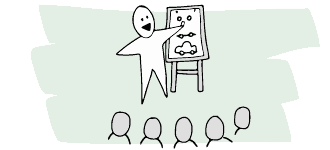 As I started to discover the amazing talents that were out there working in the field of visual facilitation you can imagine how excited I became. I was totally blown away and so I set off on my own journey to develop my style and approach.
That was over 10 years ago now and since then I've continued working alongside people with learning disabilities, delivering training and facilitating person centred plans.
I also worked freelance at conferences and strategy meetings and in June 2015 took the plunge to go freelance full time and here I am now telling you all about it!
Lasting Legacy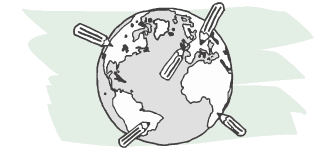 I love helping organisations and businesses use their meeting time wisely and to help them solve problems and make plans using large scale visuals.
I strongly believe in leaving a lasting legacy of this style of working, so you can continue to work in this way with or without me.  I regularly train staff in the field of visual facilitation and am available for training workshops.
Look out for me at the next conference you attend, I'll be the one with the giant roll of paper and bag full of marker pens!
Clare's manner is calm but engaged and the pupils she worked with loved doing so. She is humorous and thoughtful in her approach and her experience means she has the confidence and skills to deal with a wide range of situations.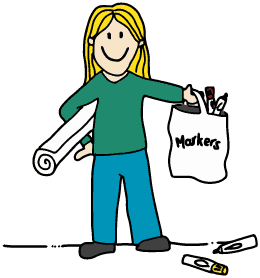 I cannot recommend Clare enough and have given her details to a number of staff across the University. I could easily think of at least a dozen other topics that we could use Clare's skills and the graphic facilitation format, and will definitely have her back at the University soon.